Happy New Year, everyone! Hope you've been having a good one. It's been a doozy of a winter here at Lake Tahoe. Big snowfalls, heavy rains, single digit temperatures, highs in the 40s… Weird and wonderful at the same time.
As you may have seen in the last newsletter, Color the Tahoe Rim Trail is finished and available for purchase. Order it directly from me at Wilderness Activity Books or Amazon. Either option is fine, but I won't be able to sign your copy if you order from Amazon. The book is $9.99 + shipping (I generally ship books Monday-Wednesday). I'm always looking for feedback and reviews, so post some comments about the coloring book at either website.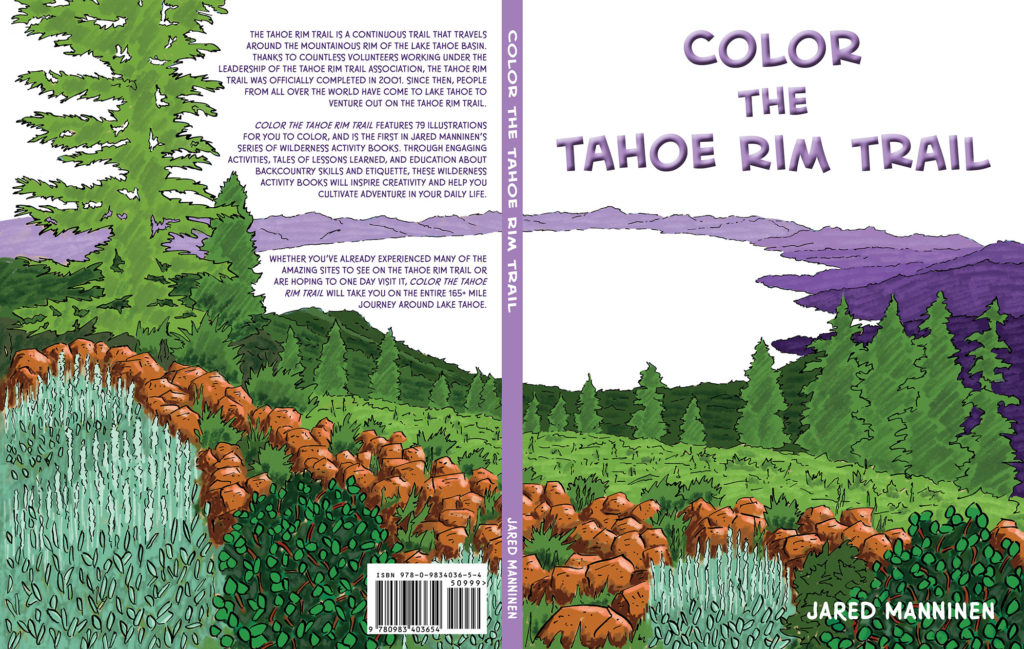 Lake of the Sky Outfitters, the outdoor store I had been working at for the past three years, is officially closing its doors at the end of this month (January 2017). They're currently holding a liquidation sale, so if you're in the Tahoe area stop by and get some great gear at low prices. If you're interested, check out my new art blog (another long-term project I recently started) for a recap of the monthly ads I created for the store while I worked there.
Since I no longer work at the outfitters, I decided to put to use my outdoor-related knowledge and experience by creating a blog that features content about hiking, backpacking, cross-country skiing, and snowshoeing in the Lake Tahoe region. Yes, this is in addition to the art-related blog I mentioned above. The website is called Tahoe Trail Guide and is live. However, I've only had the opportunity to post a few articles because I've been working at Tahoe Donner Cross Country ski area throughout the holidays. Tahoe Trail Guide is a long-term project, so check back for updates in the days to come.
The closing of the backpacking store has had a bigger effect on me than what I anticipated. Essentially, it's inspired me to embrace a theme of self-reliance and innovation to make ends meet. I'm decentralizing JaredManninen.com and spreading all of my various "specialties" across dedicated blog sites. Mostly, however, I'm deepening my relationship with the outdoor recreation industry by continuing to learn and experience as much in the field as I can. Tahoe Trail Guide is the spearhead, followed by my Wilderness Activity Books, and then there's the collection of Tahoe Swag I'm slowly designing. I continue to perform gear repair on the side, I'm in the process of becoming a PSIA certified cross country ski instructor, and I'm hoping to secure a summer job as a Wilderness Ranger for the Forest Service. The ranger position is definitely a pie-in-the-sky hope as those positions are coveted by many.
Thanks for being a part of my life. Until next time…